SATURDAY CLASSES ARE ON THANKSGIVING WEEKEND.
This class resumes Saturday Sept 9th and runs until Mid April 2024.
Program Number: FW-RX2
Program Name: Advanced Shooting Class
Day: Saturday's starting September 9th, 2023
Age / Caliber: 2016 AAA, 2015-09 Sel, A, AA, AAA (2016 players must qualify…please contact)
Times: 1:00-2:00 pm
Location: RINX, 65 Orfus Rd
Cost of Program: 10 Classes Pre-Paid – $550.00
Pay As You Go: $60.00 per class
Purchase a 10 Class Package and receive a Pro Hockey Life Discount Card
for 3 FREE Skate Sharpenings and 15% off 3 separate purchases.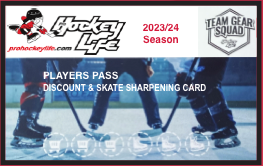 FLEXIBLE ATTENDANCE:
If you purchase a 10 class package credits do not have to be used consecutively. Use them when you can make it. Simply call if you have to miss a class and we will cancel the class for you and keep track of your credit.
You can also use your credits in any class your child fits into and any new classes that may be created throughout the season.
If you have credits remaining at the end of the season you can use them towards Summer camps. This is the most flexible credit policy you will find anywhere!
For Pay as you go.
No need to fill out online form!
Please email before you attend and let us know your child's name, age and caliber. worldclasshockey@sympatico.ca
We will confirm and instruct you on how to submit payment by etransfer.r the student.
If you don't hear back you are ok to attend.
Class Description:
The Advanced Shooting class will focus on proper weight shift, follow through, power, and accuracy on all shots. Wrist, Snap, Slap and Backhand shots will be broken down so that each student understands how each shot works, and when to use it. Each shot will first be taught in a stationary position and then put to use while skating in a variety of game situations.
ALL WEEKLY CLASSES CAN BE JOINED AT ANY TIME !!!