TEAM INSTRUCTION
Does your team need help with any of the following:
• Skating • Puck Control • Passing • Body Contact
• Shooting • Balance & Edge Control • Team Concepts
World Class Hockey provides professional Team Instruction for teams of all ages and calibers. We have extensive knowledge at teaching the many technical and intricate details of skating, puck control, passing and shooting. We are also experts at running team systems such breakouts, line rushes, defensive coverage, offensive zone attack and scoring systems, power play and penalty killing situations, neutral zone transitions and face off responsibilities. What ever your needs we can help your team accomplish your goals.
Coaches, just sit back and watch us put your players through a professionally designed skills practice.
WE CAN ALSO RUN INTENSIVE BODY CONTACT CLINICS
FOR YOUR TEAM OR ORGANIZATION !!!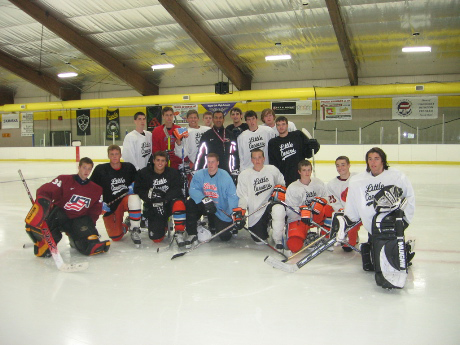 World Class Hockey has many quality ice times available for Fall/Winter team instruction:
Ice Times at RINX (Dufferin & 401)
Monday's
5:15-6:15pm CALL
6:15-7:15pm SOLD
7:15-8:15pm CALL
Tuesday's
5:15-6:15pm SOLD
6:15-7:15pm CALL
Wednesday's
5:15-6:15pm SOLD
Thursday's
5:15-6:15pm SOLD
Saturday's
2:00-3:00pm CALL
Price for above times:
Ice Cost plus $150.00/hr (Two instructors)
WE ARE NOW BOOKING THE ABOVE ICE SLOTS FOR THE 2022/23 SEASON.
PLEASE CONTACT US TO RESERVE YOUR SLOT.
HAVE SKATES WILL TRAVEL
We will come to your practice ice and run a session to fit your needs.
On your ice for only $140.00 – $160.00/hr (One instructor) Additional instructor – Minimum $25.00
(price based on location)
SUMMER TRAINING CAMPS

Mid Summer or Pre-Season Team Training Camps can be designed in any number of ways. You can choose to have on ice instruction only or add off ice fitness training, classroom instruction or both. Camps can be precisely geared to fit the needs of each team. All of the individual skills of Skating, Puck Control, Shooting, Passing and Body Contact, (where needed), will be taught. We can sit down with your coaching staff to integrate your team's breakout and forechecking systems into the program or WE can suggest and implement systems that would work best for your age and calibre. Camps typically include three hours per day on ice.
AM or PM sessions are available.