This Spring we will have Elite Spring AAA teams at the following age groups; 2007, 2006, 2005, 2004, 2003.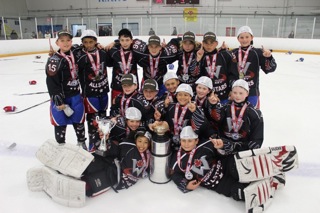 2013 – Pro Hockey Champs – 2003 AAA Division
All WORLD CLASS ALLSTARS Spring AAA Teams will be entering three tournaments and will have six team practices. We may also have extra skills practices based on team demand. Although we enter tournaments to win, our main goal in the spring is to develop the individual and team skills of our players through well planned, (skill and team based), practices. Constant correction and positive reinforcement in games will ensure all players gain a thorough understanding of the game in all zones of the ice.
Our coaches are all experienced skills instructors with extensive hockey backgrounds and coaching knowledge.
Positions on these team are limited.
Please contact us via phone or email for more information."
World Class Allstars 04′ Spring Champs from DHockey on Vimeo.